Argus Technologies offers Product design services with complete or limited project involvement, spanning the schedule from conception to production. Our business focus areas are PCB Layout design, ASIC/FPGA design, Embedded software development and Contract Manufacturing.

An Experienced technical team with wide spectrum of skills on different platforms and various industry domains helps to reduce development risk and offer cost and time to market advantage.

Our Product design services include system architecture, Design capture, PCB layout, Design Analysis, Production test program and setting up production line for PCB manufacturing, assembly and test.

Argus Technologies is Product development and Engineering Services company founded in 2005 with corporate Headquarters in Hyderabad, India and other development centers in Bangalore, Chennai and New Delhi.

Our development centers are equipped to handle complex and critical development projects, which are virtual extension of client's development Team.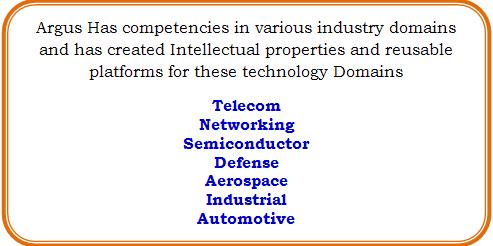 Argus technologies team has extensive domain knowledge in the fields of systems engineering, Embedded Hardware, Embedded software and Contract Manufacturing.